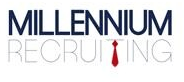 Job title: Marketing Firm – Red Bull Attitudes Needed

Company: Millennium Recruiting

Job description: Local Advertising Agency has multiple openings for customer service, marketing, and sales reps in our local office.
We are looking for qualified applicants at all levels from entry level to experienced managers.
WHAT WE NEED FROM YOU
· Positive Attitude
· Strong Work Ethic
· Student Mentality
· Full Time Availability
· People Skills
WHAT WE CAN PROMISE TO GIVE YOU
·Hands on experience
· Travel Opportunity
· Bonuses and incentives
· Fun team- oriented environment
Powered by JazzHR

Expected salary:

Location: Oklahoma City, OK

Job date: Thu, 21 Jul 2022 23:59:58 GMT

Apply for the job now!