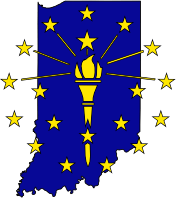 Job title: Building Plan Reviewer

Company: State of Indiana

Job description: Work for Indiana
Grow your career with the State of Indiana! With more than 50 executive branch agencies, the State of Indiana is a diverse workforce offering employees stimulating and challenging projects across a broad scope of career opportunities. As a State of Indiana employee, you impact the well-being of Indiana's communities every day.
At the State of Indiana, we don't just talk about diversity and inclusion – Our goal is to create a welcoming, accessible, and equitable workplace, with a workforce that is representative of the State of Indiana population. As a proud equal opportunity employer, reasonable accommodations may be available to enable individuals with disabilities to interview and to perform the essential functions of a role.
About the Indiana Department of Homeland Security:
The Indiana Department of Homeland Security (IDHS) leads Indiana's emergency planning and operations, first responder training and fire and building safety. The Indiana State Fire Marshal leads the Division of Fire and Building Safety (within IDHS), which oversees the enforcement of building codes and includes a fire investigations unit. The agency certifies and trains thousands of first responders and also hosts state-level exercises each year. IDHS also supports the state Emergency Operations Center (EOC), which leads response and coordination efforts for large-magnitude incidents.
Salary:
This position traditionally starts at $34,320 per year and may be commensurate with education and work experience.
Next Level benefits at the State of Indiana are here! Be sure to review our expanded benefit package offerings below.
About the Job:
The Senior Code Official interprets and applies the state's adopted fire and building (structural, plumbing, electrical, mechanical, accessibility, energy conservation etc.) laws, codes, rules and regulations as they relate to all projects (regardless of complexity) that are either in the blueprint (plan review) and/or construction (inspection) phase.
A Day in the Life:
The essential functions of this role are as follows:
Interpret various fire and building codes, laws, rules and regulations and appropriately applies them to specific routine to very complex Class I and industrial construction projects submitted.
Review and release submitted building plans and specifications or inspects construction projects for compliance with applicable state fire and building codes, laws, rules and regulations.
Prepare and issue documentation for releases such as construction design releases, foundations, addenda, correction requests, etc.
Report non-filed projects and/or construction violations making recommendations on the issuance of noncompliance orders.
Explain and interpret the various fire and building codes and their applicability to architects, engineers, building and fire officials, contractors, manufactures, property owners and/or lower- level staff.
Prepare correspondence to explain fire and building code revisions and answers general code inquiries.
Exercise authority over incomplete and/or non-conforming plan submissions until required documents are received.
Investigates and attempts to resolve complaints.
Assist in the training of new review and/or inspection staff by functioning as a mentor, providing code education, and specific on-the-job training.
Advise, coordinate, and/or conduct training for local fire and building code enforcement officials.
Prepare and submit technical reports regarding plan review and/or field inspections and prepare and submit routine administrative reports such as itineraries, monthly mileage, and attendance.
Monitor changes (new adoptions and amendments) in laws, codes, rules, regulations, and procedures that relate to Class I and industrialized building projects in the state.
Promote the development of local building departments through meeting with locally elected and appointed officials and special interest groups (e.g. trade associations).
Serve as a witness in court on code violations as required.
The job profile is not designed to cover or contain a comprehensive listing of activities, duties or responsibilities that are required of the employee. Other duties, responsibilities and activities may change or be assigned at any time with or without notice.
What You'll Need for Success:
You must mee the following requirements to be considered for employment:
Be willing to travel with reasonable accommodation.
Ability to achieve national certification as a Plans Examiner and Certified Building Inspector within three years of being hired.
Practical experience in building design, design review, construction inspection or construction supervision.
Extensive and specialized knowledge of, and ability to, interpret the state's various adopted fire and building (structural, plumbing, electrical, mechanical, accessibility, energy conservation etc.) laws, codes, rules and regulations and apply them to plan review or inspection practices.
Extensive knowledge of construction principles, practices and procedures.
Ability to read, understand, and evaluate construction plans, specifications, and shop drawings for compliance to applicable fire and building codes.
Ability to use the measuring and mechanical devices related to design and construction practices.
Ability to effectively and tactfully communicate with design professionals, contractors, property owners, elected and appointed officials, and the public regarding technical issues of noncompliance, codes, complaints, and administrative procedures.
Ability to use various office equipment such as computers, printers, copiers etc.
Supervisory Responsibilities/Direct Reports:
This role does not provide direct supervision to direct reports.
Benefits of Employment with the State of Indiana:
The State of Indiana offers a comprehensive benefit package for full-time employees which includes:
Three (3) medical plan options (including RX coverage) as well as vision and dental plans
Wellness program (offers premium discount for the medical plan and gift cards)
Health savings account, which includes bi-weekly state contribution
Flexible work scheduling options, including the potential for hybrid remote work for employees whose work may be performed outside state facilities
Deferred compensation 457B account (similar to 401k plan) with employer match
Two (2) fully-funded pension plan options
A robust, comprehensive program of leave policies covering a variety of employee needs, including but not limited to:
150 hours of paid new parent leave
Up to 15 hours of paid community service leave
Combined 180 hours of paid vacation, personal, and sick leave time off
12 paid holidays, 14 on election years
Education Reimbursement Program
Group life insurance
Referral Bonus program
Employee assistance program that allows for covered behavioral health visits
Qualified employer for the Public Service Loan Forgiveness Program
Free Parking for most positions
Free LinkedIn Learning access
Equal Employment Opportunity:
The State of Indiana is an Equal Opportunity Employer.

Expected salary: $34320 per year

Location: Indianapolis, IN

Job date: Wed, 06 Jul 2022 22:02:41 GMT

Apply for the job now!