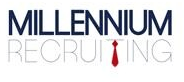 Job title: Brand Ambassador – Marketing

Company: Millennium Recruiting

Job description: We are the leading Promotions and Marketing firm in the area. Our focus is to find outgoing, team-oriented brand representatives who enjoy working with our clients to create massive brand recognition within the general public
Purpose of Position
We create mass product and service visibility through field marketing programs. You will work closely with other Brand Ambassadors to create excellent customer service and aide in driving profits through face-to-face customer interactions. You will answer customer questions regarding our client's brand and aide in driving revenue.
Primary Duties
· Increase client's profits by establishing strong brand representation through face-to-face marketing.
·Execute short-term promotional sales presentations.
Skills and Knowledge
· 1-2 years experience or training in marketing, sales, or hospitality preferred, but willing to make exceptions for the right candidate
· Experience in customer service or other people-oriented fields desired
· Exceptional communication and interpersonal skills
· Ability to work independently and contribute in a team environment
· Exceptional self-management and self-motivation skills
· Desire to succeed
Powered by JazzHR

Expected salary:

Location: Phoenix, AZ

Job date: Sat, 16 Jul 2022 04:00:33 GMT

Apply for the job now!