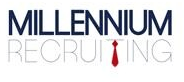 Job title: ALL POSITIONS AVAILABLE FROM MANAGEMENT TO ADMINISTRATION

Company: Millennium Recruiting

Job description: GRAND OPENING for our NEW location
We will begin our INTERVIEW PROCESS IMMEDIATELY.
Get Your RESUME in NOW for an OPEN Position!
ENTRY LEVEL POSITIONS:
· ADMINISTRATION
· CUSTOMER SERVICE
· MARKETING
· SALES REPRESENTATIVES
· ADVERTISING ASSISTANTS
· PUBLIC RELATIONS
· EVENT HOSTESS'
· PROMOTION REPRESENTATIVES
· EVENT COORDINATORS
· ASSISTANT MANAGERS
· ROOKIE MANAGERS
OVERVIEW
We pride ourselves in our staff.
we are willing to provide the guidance, the tools, & the motivation for our Entry Level & Management Positions.
We have a very LARGE client list that we brand, advertise & market with.
We also pride ourselves in the DEVELOPMENT of Marketing Promotions that generate sales revenue.
We interact with VARIOUS internal Departments to carry out our Clients' Requirements such as scheduling, advertising; monitoring account activities, and monitoring and managing production.
WE OFFER
· STABILITY & BENEFITS
· WEEKLY PAY & BONUS
· UNPARALLELED WORK ENVIRONMENT
· DEVELOPMENT BEYOND ENTRY LEVEL
· TRAVEL OPPORTUNITIES
· CAREER ADVANCEMENT
REQUIREMENTS
· FULL TIME AVAILABILITY
· TEAM PLAYER
· GREAT COMMUNICATION SKILLS
· ABILITY TO EXCEL IN UNSUPERVISED SOLO ASSIGNMENTS
· ABILITY TO EXCEL IN UNSUPERVISED TEAM ASSIGNMENTS
· ENERGETIC PERSONALITY
· AMBITIOUS, LOYAL, AND MOTIVATED
Powered by JazzHR

Expected salary:

Location: Atlanta, GA

Job date: Fri, 15 Jul 2022 04:17:02 GMT

Apply for the job now!